Sensual Majesty of Deep Pink
Maxi dress in deep pink - timeless elegance and unusual style! This fashionable creation is sure to attract attention on any occasion. Corset top with underwiring provides excellent support and emphasizes feminine shapes. What's more, the straps can be freely detached, adjusting the dress to your preferences.

Asymmetric hemline and bold right-hand slit add a bit of madness and extravagance to this romantic look. In addition, the decorative godet in the lower part of the dress introduces an effective movement with every step.

Corset neckline and uncovered shoulders emphasize the neck and expose delicate parts of the body, giving the styling a subtle and sensual expression. Made of breathable fabric, the Chase dress guarantees all-night comfort.

Fit cut emphasizes the figure, and at the same time ensures freedom of movement, which is extremely important on the dance floor or comfort during long meetings. Perfect for a variety of events, from romantic Valentine's Day, through exclusive New Year's Eve, to unforgettable weddings or birthdays.

This maxi dress is the perfect choice for self-confident women who want to feel special and phenomenal. Its elegant character and deep pink color will make every woman feel like a real queen of the evening.

Fastened with a convenient zipper, you can quickly and easily put on this creation without the help of others. If you want to add your personal style, you can add jewelry that will perfectly complement the whole.

To sum up, this maxi dress is a great choice for big occasions where elegance and originality are at a premium. You will certainly attract looks and be remembered as a woman with exceptional fashion taste.

If you hesitate with the choice of size, we recommend choosing the smaller one. Choosing a smaller size can provide a better fit and emphasize the advantages of the figure. Too big size can make the dress look worse on your body.
Fabric 1
POLYESTER 73%
, VISCOSE 21%
, SPANDEX 6%
Length from armpit measured from side (cm)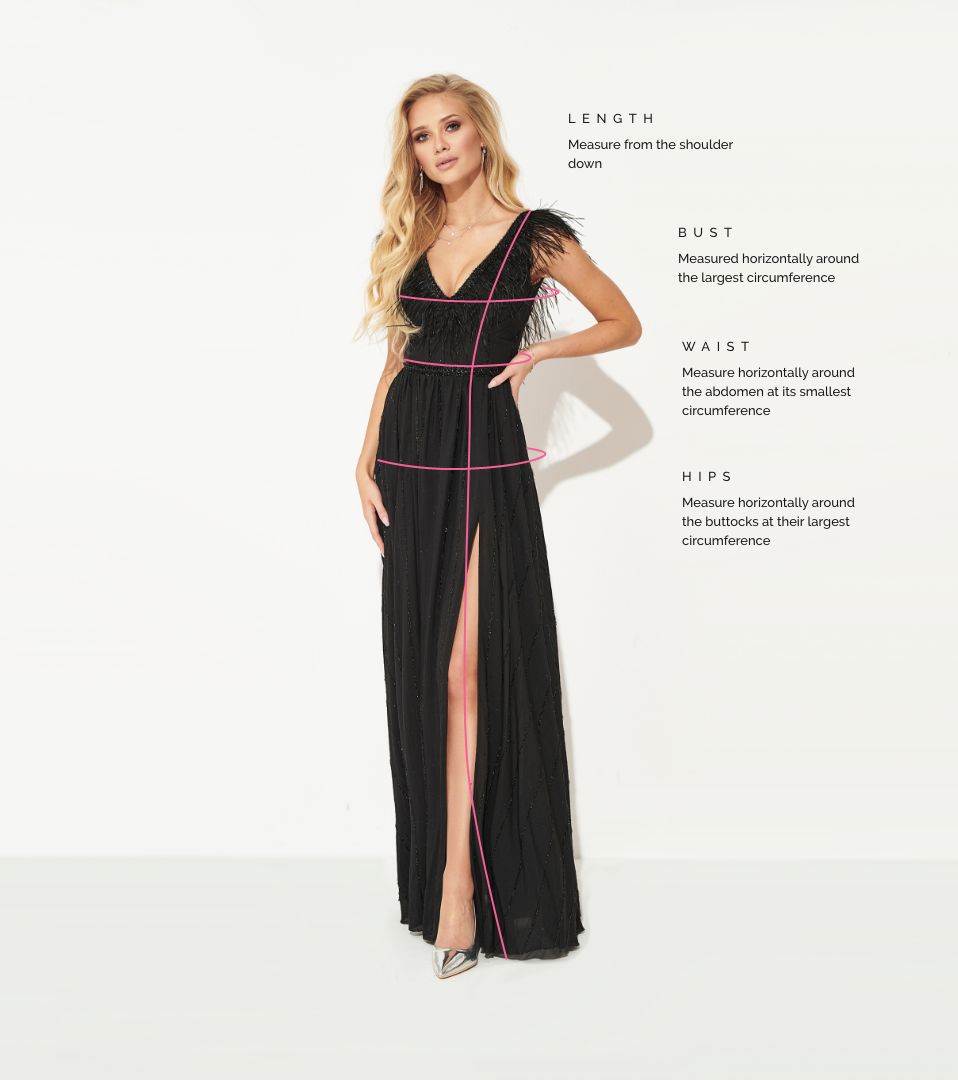 How to measure?
Length from armpit measured from side (cm)