2023-10-20
Don't believe in coincidences? Take matters into your own hands, as French women have been doing for years. Their styles are a symbol of femininity and minimalism. Meet the 5 dresses you must have in your closet to win the heart of the one.
Czytaj więcej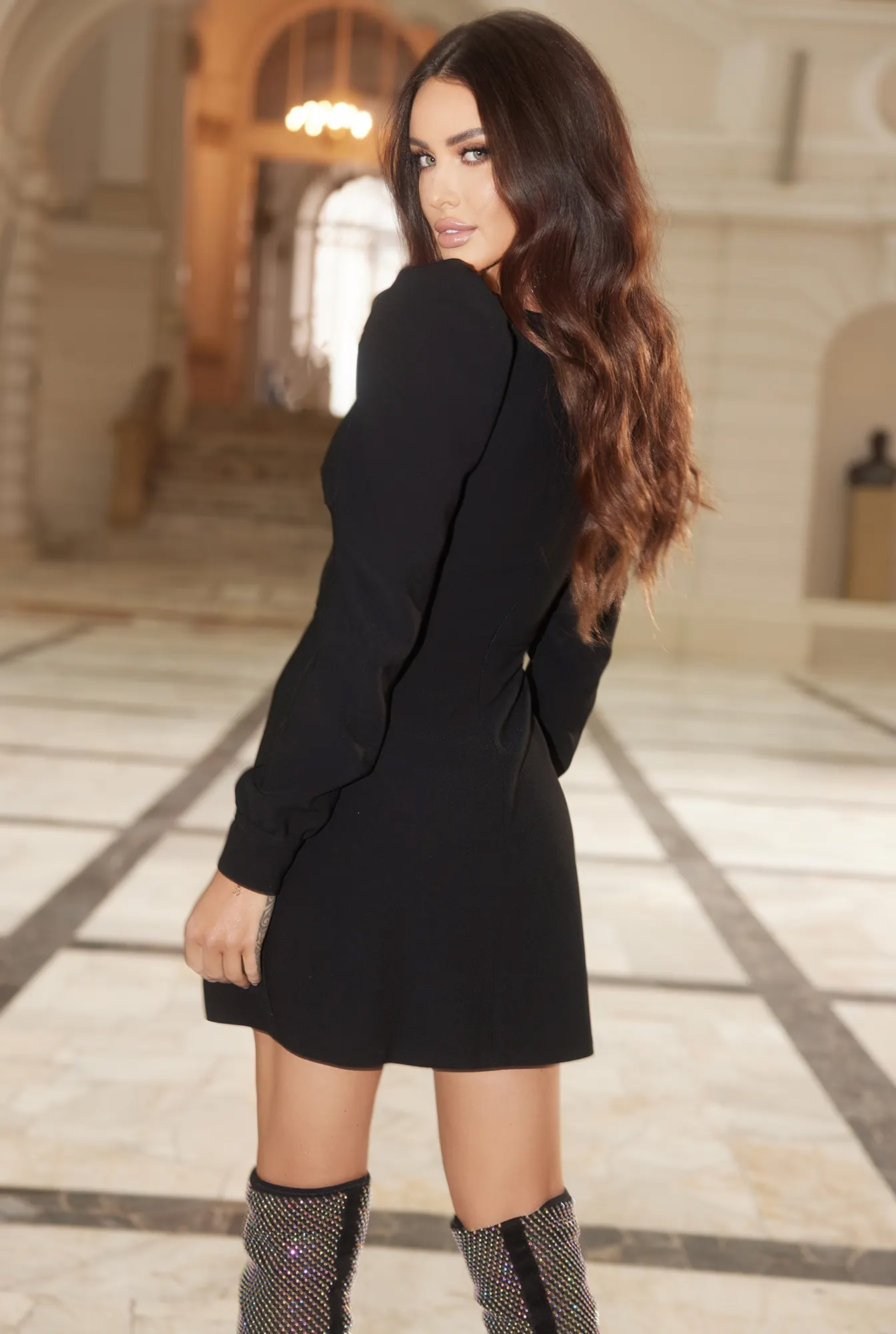 Simplicity, Elegance, and Timelessness – French-Style Dresses That Capture Men's Hearts
Don't believe in coincidences? Take matters into your own hands, just as French women have been doing for years. Their outfits symbolize femininity and minimalism. Discover 5 dresses you must have in your wardrobe to capture the heart of that special someone.
A French woman's closet is a place worth drawing fashion inspiration from. Due to the numerous associations of France with love, this time we decided to examine the tricks of Parisian women, which they use when they want to attract the attention of the opposite sex. In this case, the little black dress often proves to be foolproof – in various variations and for various occasions. How to create a timeless look that will make men turn their heads? We'll provide tips in the rest of the article.
The Little Black Dress – What French Women... and Men Love Most
Anyone who doesn't know Coco Chanel has a lot of catching up to do. The most famous Frenchwoman in the world in the 1920s presented the world with the "little black dress." There's nothing that emphasizes French style more. Evening dresses have seen many versions, making it suitable for various occasions. Moreover, it's a wardrobe essential for every stylish woman.
Here are the most beautiful dresses that French women have a weakness for and are fashionable every season.
Cut-Out Dress
The plain little black dress is definitely not enough for the streets of Paris. That's why French fashionistas experiment with cut-outs near the waist or neckline. Both subtle, delicate cut-outs and larger slits stimulate men's imagination. French women know this well, which is why they often choose a dress with this element more often than a simple, covered version. The variety of styles might be surprising, but only in a positive way because every woman can find a
unique evening dress
suitable for a particular occasion. Variety applies mainly to sleeve length, the size of the cut-out, or the length of the dress. Of course, only high-quality materials and a brand with a good reputation, sewing locally, and promoting a sustainable approach to fashion are in play. The perfect model that fits the French style is the midi dress
Ricarda
– French chic in the best sense of the word. Style and elegance for both evening outings and daily wear. The cut-out is subtle enough not to be provocative but adds character.
Feathered Dress
Dresses adorned with feathers have fascinated and delighted with their unique nonchalance, unquestionable elegance, and enduring timelessness for centuries. These are garments that astonish men with their lightness, delicacy, and unique charm. Regardless of current fashion or trends, feathered dresses are a classic that will always be appreciated. Feathers, as a dress decoration, have an incredible ability to attract attention. They can be a discreet accent, adding subtlety, or a spectacular and bold element that sets any woman apart from the crowd.
Long evening dresses
with feathers not only emphasize femininity and grace but also remind us of the history of fashion, making them retro and vintage. It's hard to forget Vivien Leigh in the movie "Gone with the Wind," wearing a feathered dress. Today, designers draw inspiration from these influences, creating modern interpretations that maintain the spirit of the past while fitting contemporary tastes.
Polish evening dresses
have also seen models adorned with feathers, including the dress
Ella
or
Tamisza
. There is no doubt that these dresses are an excellent choice for evening outings, ceremonies, or romantic dinners. Their unique form allows women to express their personal style and feel exceptional and confident, exuding feminine power and charm. These are not just clothes – they are true works of art that capture men's hearts with their unique aesthetics and undeniable charm.
Backless Dress
French style has been a symbol of elegance, subtlety, and sophistication in fashion for centuries. Backless dresses are an integral part of this distinctive approach to clothing. Deep black and exposed backs are an incredibly enticing and sensual combination that perfectly emphasizes the female silhouette while maintaining an element of mystery. These creations are an expression of the unique ability to combine classic and modern elements. Their timeless design and seductive form make them an essential part of the wardrobe of every self-confident woman who wants to enchant with her appearance. It's the subtlety of these dresses that catches the eye and leaves an unforgettable impression. The uniqueness of backless dresses lies not only in their exceptional cut but also in the way they allow women to express their individuality. Available in various versions, from minimalist to more ornate, they allow the choice of the perfect option for any occasion – from a romantic candlelit dinner to an elegant gala. Regardless of the specific edition, these dresses exude self-confidence and French nonchalance that is hard to resist.
Slip Dress
French fashion adores lingerie trends. Airy camisole tops finished with lace, wide linen pants, or satin skirts combined with a cashmere sweater. This collection also includes dresses inspired by slips, the so-called slip dress. French chic in its full expression. Flowing, satin fabric on thin straps is a combination that works well for both everyday and special occasions. It's a favorite of French it-girls. Women around the world have taken inspiration from this trend and fallen in love with it unconditionally. It's worth getting inspired and ensuring you have at least one such dress in your wardrobe. We guarantee that there will be plenty of occasions to wear them.