2023-10-24
What should we pay attention to before we buy, to make sure that we are buying a creation that will serve us for a good few years and look like the day we bought it? In this article, we will look at the main factors that determine the quality of dresses and hint at the telltale signs that can help us avoid disappointment. So let's discover the secrets behind the durability and quality of dresses so that our clothes will please us for many seasons.
Czytaj więcej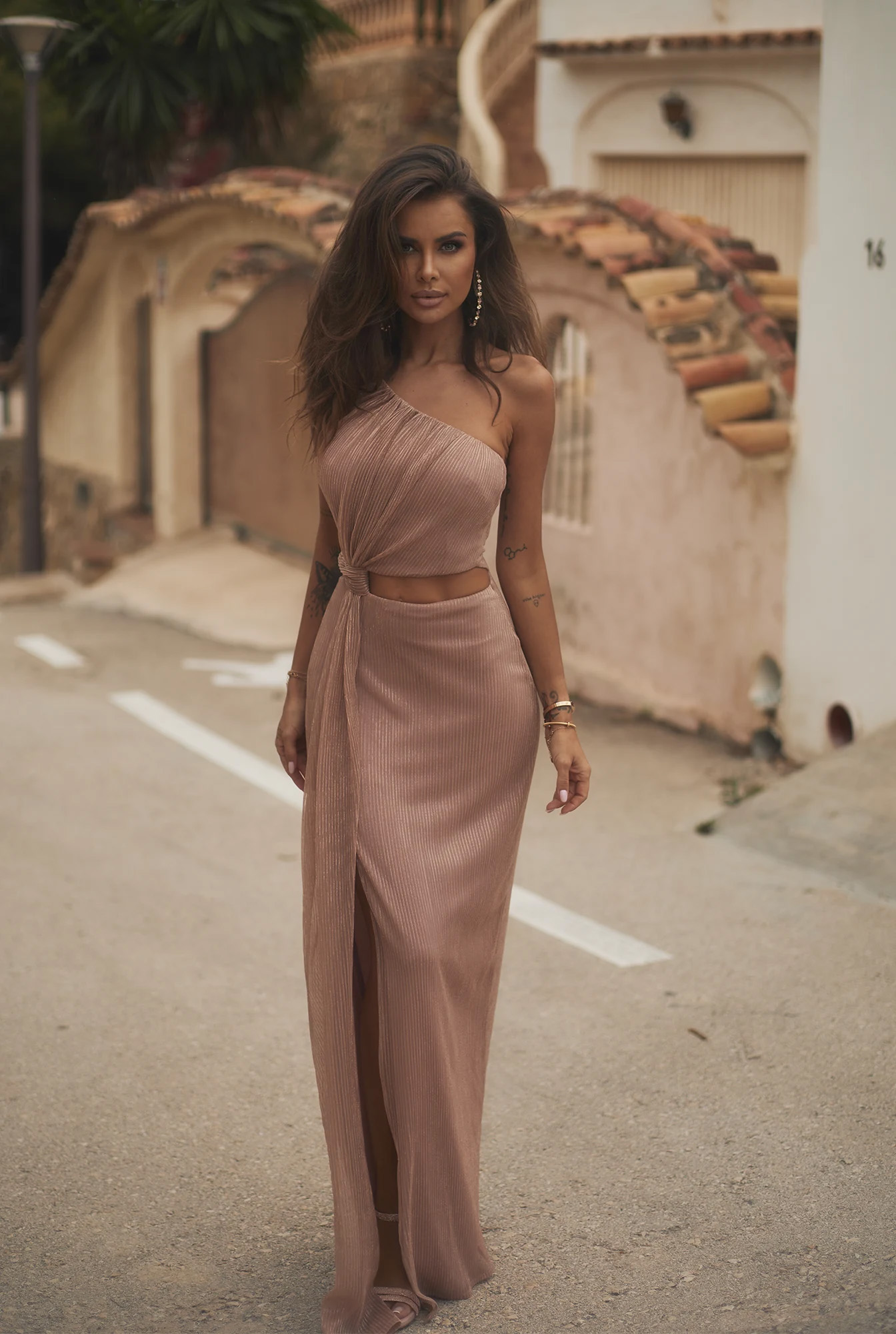 What Makes a Dress High-Quality? How to Recognize That the Dress You're Buying Won't Fall Apart After Two Washes?
Chain store fashions offer low prices and... weak materials. Online stores are filled with clothes you can wear a few times, and then you don't know what to do with them. Should you throw them away, or should you try to salvage them somehow? What should you look for before purchasing to ensure that you're buying a dress that will serve you for many years and will look as good as the day of purchase?
In this article, we will examine the key factors that determine the quality of dresses and provide you with the telltale signs to help you avoid disappointment. Let's uncover the secrets behind the durability and quality of dresses so that your clothing brings you joy for many seasons.
Quality Materials: What Material to Choose for a Dress That Will Bring You Joy for Years?
When selecting a dress that you want to enjoy for many seasons, you need to pay attention to its composition. The choice of the right material is crucial for both durability and wearing comfort. Here are a few popular materials that will ensure a long life for your dress and comfortable wear:
Viscose
It combines the properties of linen and silk. A delicate yet warm material that flows like a waterfall. It's the only material classified as both natural and synthetic fiber. Depending on the processing method, it can have different characteristics. Sometimes it can be soft and fluffy like wool, and other times it can be delicate and lightweight like silk. This makes this material particularly unique. Dresses made from viscose are elastic and durable, allowing for unrestricted movement.
Linen
One of the oldest materials in the world. Its properties allow for creating extremely comfortable dresses that you can barely feel on your skin. It doesn't cause allergies, doesn't overheat the body, and lasts for many years. It may not be the best choice for autumn, but for spring and summer, you won't find a better material that allows your skin to breathe.
Is Silk a Good Material?
It turns out that it is - and in many ways. Silk obtained from the cocoon of the mulberry silk moth is one of the most durable fabrics. Its fibers can stretch up to 20% without tearing. It even outperforms cotton and polyester. When washed at the right temperature and with mild detergents, a silk dress will retain its luster for a long time.
Are Cotton Dresses Durable?
The advantages of cotton could be written about for hours. Its durability and, at the same time, its softness to the touch make it "indestructible." Furthermore, the fabric is exceptionally easy to maintain. Its natural origin and hypoallergenic properties are a plus for people who can't wear everything due to sensitive, allergy-prone skin. Autumn dresses made of cotton will be warm, comfortable, and durable.
Is Polyester Not as Terrible as They Say?
Demonizing polyester has become commonplace. Should you really be afraid of this material? Not necessarily. Many beautiful dresses are made from this material. It is often a very high-quality fabric. It exhibits above-average mechanical resistance. It's perfect for autumn dresses, which should be made from thicker material to provide adequate protection against the cold. Ideal autumn dresses in 2023 should also be resistant to stains and dirt, so that the autumn rains don't ruin your important outing. Synthetic polyester fibers are highly hydrophobic, which means that clothing won't absorb water.
Careful Finishing
Clothing from chain stores is not called "fast fashion" for nothing. Dresses produced in Asian factories are made en masse, often in terrible conditions that violate human rights. In such factories, there's no time for meticulous finishing, and even the most beautiful dresses are often sewn carelessly. Threads stick out from the clothing, there are crooked seams, and unattractive stitches. When looking for a dress for a special occasion, you want it to fit well, not fray, and not unravel. Therefore, before purchasing, carefully inspect where it was produced.
We recommend stretching the fabric before purchasing the product. If the material doesn't return to its original state and distorts, it's not a good purchase. Also, pay attention to whether the threads used for garment production are the same color as the dress. If you notice any discrepancies, it means someone didn't work as carefully as they could. Properly finished hems should be about 3 cm wide. This applies especially to skirts and dresses. Otherwise, the clothing may start to fray quickly.
Quality Lies in the Details
Details make all the difference in a dress. From an ordinary, raw piece of fabric, they can create a work of art. Buttons, sequins, intricate applications. All of these make clothing unique. Before purchasing, check if all of these embellishments are in place, and nothing is missing. In a dress store, you can physically touch the product and carefully inspect every detail. If you're shopping online, do the same when you receive the package. If the quality of the clothing is unsatisfactory, you can easily return the product.
Where to Buy High-Quality Dresses?
Are you looking for an autumn dress for work, a party, or a get-together with friends? Find a model that combines unique design and high-quality materials at Lou. We create a place where elegance meets durability, and the choice of materials plays a crucial role in the production process. Dresses available in our collection are not just a fashionable addition to your wardrobe but are also designed with wearing comfort in mind. Choose clothing that will not only emphasize your individuality but will also serve you for many seasons. Explore the wide range of Lou dresses and discover how elegance can be combined with durability in one outfit.