2023-10-23
Are white dresses reserved only for holiday adventures and sunny days? Can we not wear this color in autumn? Why is white color demonized in autumn and how to overcome the limitations of wearing this particular color? Find out now how to find the perfect white dress model for autumn.
Czytaj więcej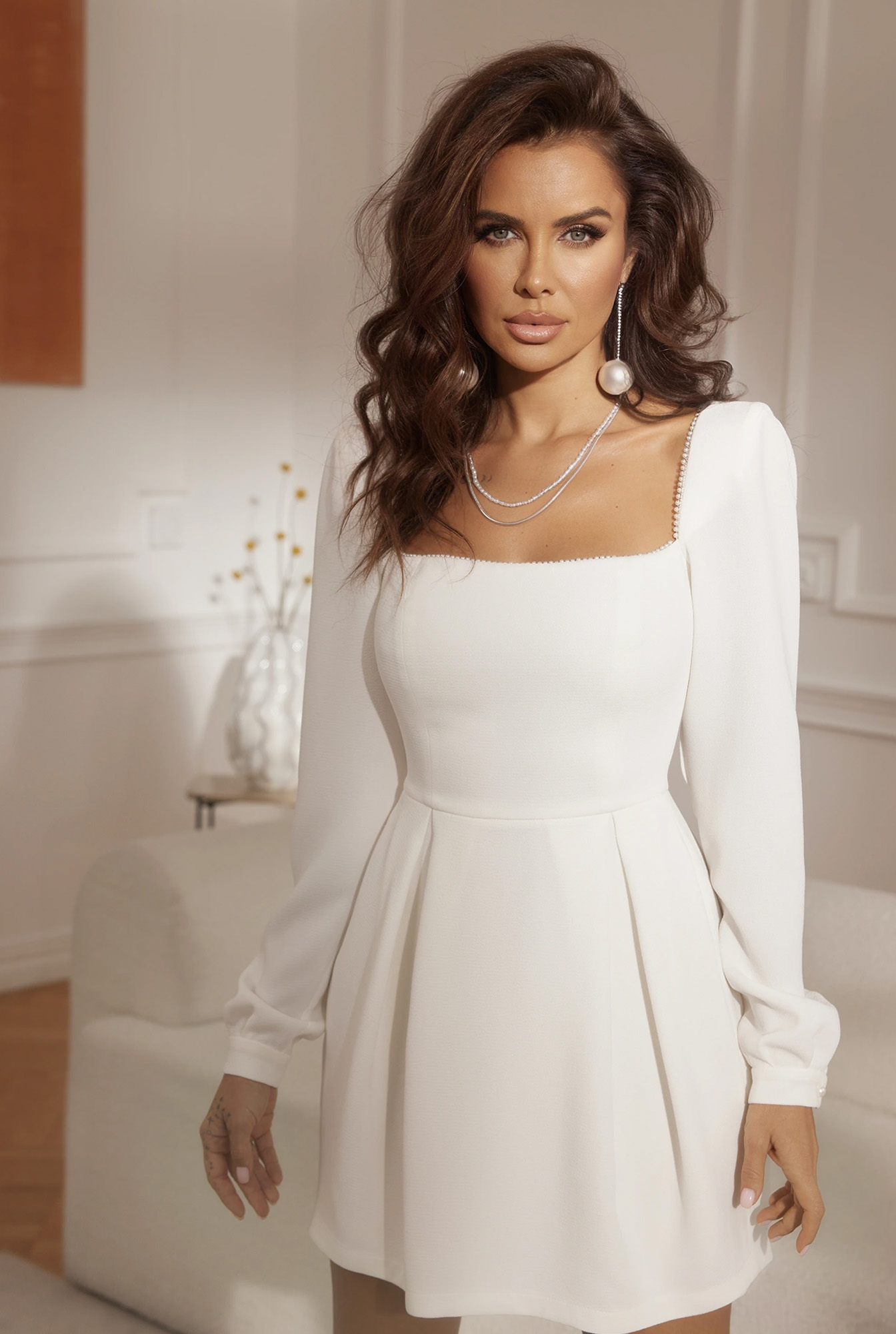 White Dresses for Autumn: A Great Idea or Just Naïveté?
As we turn the page on the calendar, we automatically put away our summer outfits. We place the color white on the shelf, only to be reminded of it next year. Are white dresses reserved for summer adventures and sunny days? Can't we wear this color in autumn? Why is white stigmatized in the fall, and how can we overcome the limitations of wearing this particular color? Learn now how to find the perfect white dress model for autumn.
Is White Clothing a Good Idea for Autumn?
Okay. How many times have you seen a frowned face when you wore something white during an autumn downpour? Especially if it was pants or a dress. Puddles on the sidewalk and leaves covered in mud whisper in your ear, "Don't wear anything white." In such weather, a long white dress that sweeps the ground or an oversized pantsuit won't retain their original whiteness. However, autumn is also a season full of sunshine and warm days. So why give up on white clothing?
Do you want to wear a white dress for an important autumn event or simply for work? We'll give you tips on how to do it to your best advantage.
What White Dresses for Women Are Best for Rainy Days?
As mentioned earlier, full-length maxi dresses might not remain clean when it comes to mud. But what about short white dresses with long sleeves?
Wear thick tights, preferably 40 den, to tightly cover your legs. You can also opt for high boots that cover most of your legs. Add a long trench coat or coat, and voilà, a stylish look perfectly suited for autumn weather. Dirty water from puddles will have a hard time reaching the white part of your outfit. And you will look stunning.
Discover the Sancha and Hera models. Their two biggest advantages are midi length and long sleeves. You'll feel warm and comfortable in them. The evening cut of both dresses is perfect for business dinners and outings with friends. The striking design of both outfits is an excellent addition to the gloomy autumn days. Accessorize them with subtle details and enjoy an unforgettable white look even in autumn.
How to Keep a White Dress Clean in Autumn?
If it's a windy day outside and the streets are full of puddles and mud, there's a high chance that your white dress will take a beating in autumn 2023. If you're wearing a long lace dress with straps, not only will you come back dirty, but you might also catch a cold.
Here are a few tips to help you keep your white dress spotless during autumn days:
1. Choose the right fabric:
Try to select a dress made from a fabric that is less prone to stains, such as cotton or polyester. Avoid materials that easily absorb stains, like silk.
2. Apply waterproofing:
We can waterproof not only shoes. Before wearing the dress outdoors for the first time, consider using a special fabric waterproofing treatment. It will create a hydrophobic layer that will prevent stains from adhering to the fabric or make it much easier to remove them.
3. Use accessories:
Accessories such as a scarf, shawl, or umbrella can help protect the dress from rain and wind. In addition, they will add style and elegance to your outfit.
4. Be prepared for surprises:
Despite your best efforts, unexpected situations can occur. Always have moist wipes on hand to quickly remove stains or dirt.
How to Care for White Outfits in Autumn?
If a tragic situation does occur, you need to address it somehow. How can you restore the outfit to its proper condition so that it can serve you for a long time?
First, familiarize yourself with the label attached to the garment. It is an essential item that provides information on how to care for the product.
Second, use appropriate laundry products. Special detergents dedicated to white clothing are recommended. They will help maintain the whiteness and prevent it from fading. Make sure the product is suitable for the type of fabric. After all, you don't want your delicate lace dress to turn into a distorted material.
Third, set the right washing program. Many washing machines have a dedicated program for white fabrics. However, if there isn't one, select a gentle program.
This way, you'll ensure your dress remains in excellent condition for years to come, and you won't be afraid of even the harshest autumn weather.