Elegance with feather boas
Black Meryl Dress
is a synonym of elegance and refined style. Its
maxi length
gives it a unique character, perfect for evening outings, parties, or elegant occasions. The dress is
form-fitting
, accentuating the silhouette's advantages, and the strapless design adds subtle charm.
The
asymmetrical cut
gives the dress a distinctive character while being ideal for cooler autumn and winter days. Adorned with
boa feathers
, the dress captivates with draped fabric that delicately falls on the body. Additionally, exposed shoulders add a touch of sensuality to the whole look.
This dress is perfect for New Year's Eve, Valentine's Day, a romantic date, prom, birthdays, or an elegant wedding. A
left leg slit
adds lightness to it, and the long sleeves and Spanish-style neckline attract attention with their unique design.
Asymmetrical pleats
on the front of the dress emphasize elegance, and the corset top with built-in boning ensures excellent support.
Boa feathers around the neckline in the front and back add a unique shine and a luxurious finish to the dress. The dress's
simple cut
beautifully highlights the legs and hips, making you feel confident and stunning.
The dress is equipped with a
zipper
, making it easy to put on. The smooth material is pleasant to the touch, ensuring comfortable wear. Black Meryl Dress is the perfect choice if you're looking for an elegant and incredibly eye-catching outfit for special occasions.
Due to the addition of feathers, we recommend hand washing. After washing the feathers, it is necessary to dry them with a hair dryer for at least 30 seconds and then gently comb them out with a comb. Avoid using fabric softeners.
Proper hand washing and drying
Fabric 1
POLYESTER 96%
, SPANDEX 4%
Fabric 2
NYLON 26%
, COTTON 70%
, SPANDEX 4%
Length from shoulder (cm)
Circumference under the bust (cm)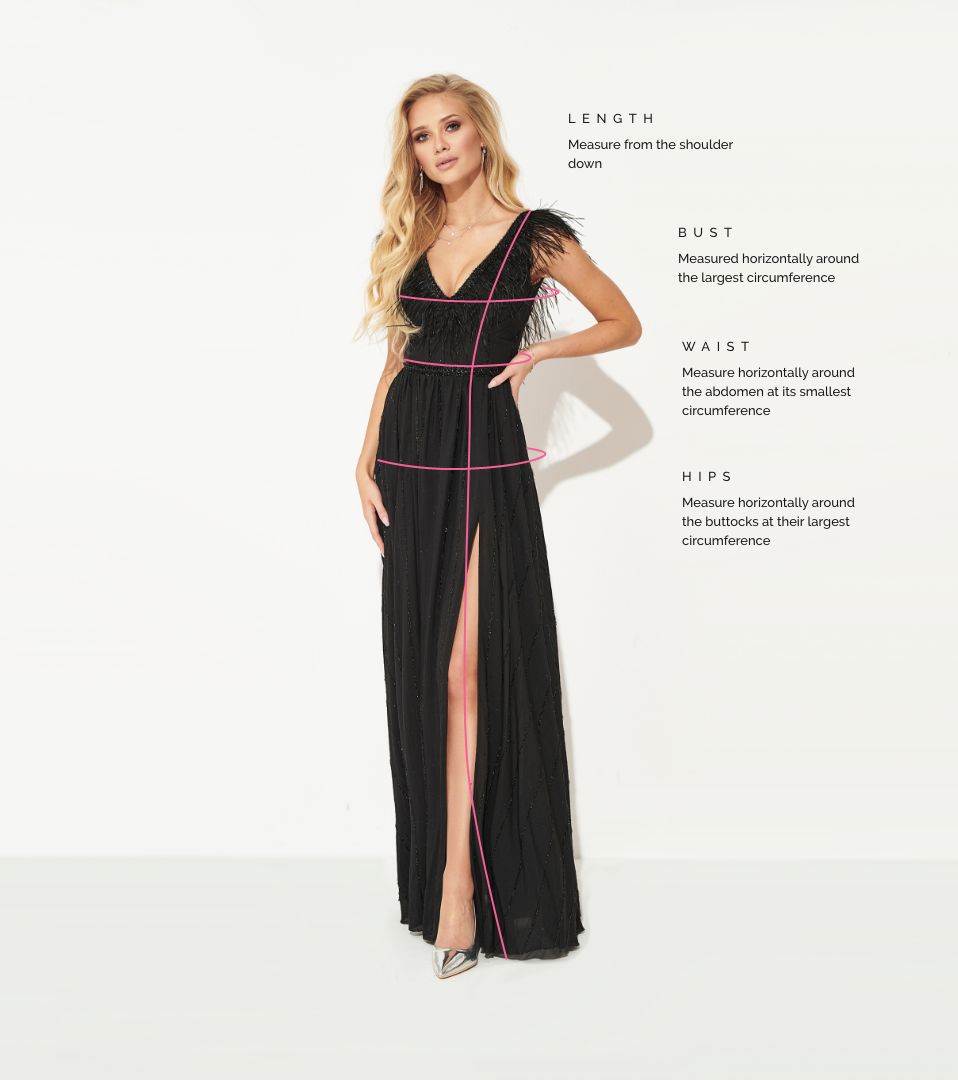 How to measure?
Length from shoulder (cm)
Circumference under the bust (cm)